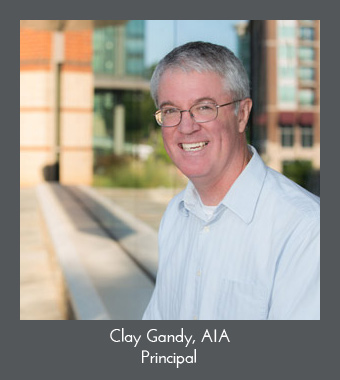 Clay Gandy completed his Bachelor of Science in Design and Master of Architecture degrees at Clemson University and immediately went to work with Kijima Architects in Tokyo, Japan. Clay's curiosity and desire to expand his breadth of knowledge in the field then lead him to study architecture in Genoa, Italy.
Since then, Clay has gained a wide array of experience through positions held with large, prestigious firms in Atlanta and the Upstate, including Neal Prince and Partners Architects, Eason Earl Architects, Louis Batson Architects, and MacMillan Smith Architects. While serving as Greenville Office Director for McMillan-Smith, Clay was able to cultivate strong working relationships with many builders who share his desire to provide clients with a well built space that is within budget and totally customized to meet their needs.
Clay's varied roles through the years have lead to a background that includes an interesting mix of medical, commercial, restaurant, office, and religious architecture. He sought to utilize this vast experience to establish an architectural firm focused on offering clients creative solutions. In 2006, Clay helped to bring this dream to fruition as one of the founding principals of Green Arch Design Group, LLC. The married father of four currently serves as an instructor and Program Coordinator in the Department of Architectural and Construction Engineering Technology at Greenville Technical College.
Contact Information:
Phone: (864) 370-9066
Email: clay@greenarchdesign.com